PERSPECTIVES: MUST GOOD THINGS COME IN SMALL PACKAGES?
Vicki Willatts, Design Director at Brandhouse
A few years ago, a new coffee shop opened on the high street around the corner from where I live. Being an area not lacking in independent, artisan traders, it wasn't that much of a big deal. None the less it became a new regular spot to go and enjoy a Saturday morning coffee, with a feeling that I was doing a good thing supporting the local community/economy rather than going to the Starbucks next door.
This coffee shop was called Harris & Hoole, and I was later to discover that it was part owned, and since February 2016 fully owned by the huge corporation that is Tesco's. I felt like I'd been cheated and tricked by a cleverly branded coffee shop with the design style of an independent.
There are many brands out there which appear on the surface as a niche challenger brand, and are in fact owned by larger corporations. For example, the ready-meal brand City Kitchen, owned by global public food company, Kerry Foods. 
Some of these brands may well be start-ups which have since been bought out by larger companies, but it's clear that with sales being lost to smaller independent challenger brands the larger companies are starting to take an 'if you can't beat them, join them' attitude in their approach to these startups.
There are different ways in which bigger companies become involved with start-ups, aside from buying them out when the brand has become established. From launching venture capital units that invest in a potentially successful start up brand, a positive thing to those struggling to finance their dream, to working closely with established start-ups to learn from their ideas and energy, some big companies are creating brands that are marketed as a challenger entirely, from the way it acts on social media and its tone of voice, to its design aesthetic and target audience.
Through its VC unit, the world's biggest alcoholic drinks maker, Diageo has invested in many start ups.
In an article in the Independent in May this year, the head of its innovation unit (Diageo Futures), James Ashall, spoke of how this strategy is making things more interesting and the company more adventurous, after the purchase of non-alcoholic distilled spirit brand Seedlip. "If we'd had our strategic areas written down four years ago – what does Diageo want to go after – nowhere would we have written down, 'We think there's a big opportunity for a non-alcoholic spirit'. By Distill Ventures provoking our thinking about the space it allows us to stretch into an area that wouldn't have been naturally in our gift."
From the point of view of these big companies, it allows them to expand into new territories and to target new consumer groups, use a tone of voice they would not normally be able to get away with, like for example sounding 'younger' than their current perception. It can also allow them to focus on areas which are already proving to be successful.
But can the ethos and passion behind these startup brands really continue and come across when swallowed up by large companies? Is it dishonest to the consumer, and how will it affect their loyalty when they find out the new challenger brand they've just fallen in love with is actually a big corporate?
A Channel 4 documentary in February 2016, revealed a selection of seemingly artisan products which are owned by large companies. As reported in the Mail On Sunday, after the programme aired, viewers took to Twitter to express their views of these brands.
One user wrote '@teapigs big corporates pretending to be artisan!!!! Furious! Support local producers! Question the provenance!' and another: 'Blimey! Never buying @teapigs or @RachelsOrganic again after watching #supershoppers! Nothing artisan about them at all! Feel mugged off!'.
Tesco's have also recently gotten into trouble regarding their 'fake' farms brands, where the brand aesthetic follows a style synonymous with local, British, credible farm brands when some of the products aren't even from Great Britain.
Roger Sharpley, who owns real-life Boswell Farm, told Feedback, the environmental organisation that campaigns to end food waste, which has been investigating supply chains of Europe's largest retailers, 'It's an abuse of power. Supermarkets like Tesco have a huge amount of power over producers, especially the smaller ones, and they think they can get away with a trick like this.
Even if it isn't strictly illegal, they're trying to conjure up an image of something that isn't the reality. And you can bet that if the boot was on the other foot Tesco's lawyers would be all over it.'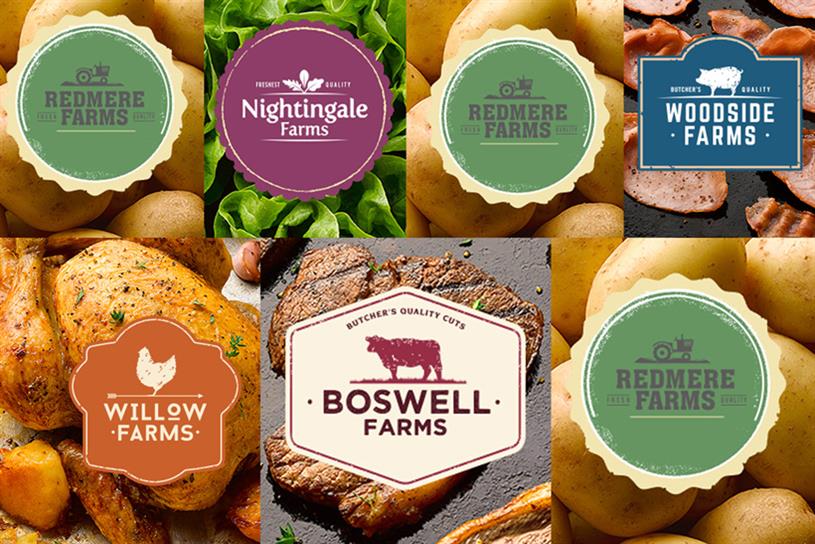 Speaking about Carlsberg's takeover of the London Fields brewery, Mike Benner of the Society of Independent Brewers says 'Deals such as these are made in the hope of capturing the original customers won on the back of the brewery being relatively small, independent and brewing quality, flavoursome beer. Consumers deserve to know that what they are buying is a genuine craft-brewed beer as research clearly shows that most beer drinkers believe craft beer to be produced by relatively small, independent brewers.'
With recent global events, there appears to be a generalised feeling of lack of trust in large powerful organisations and governments. Alongside this, consumer habits are moving away from established big brands towards smaller independent brands who are regarded as being more authentic and healthy. According to The Future Laboratory's Future Forecast for 2018, 'A third of UK consumers are less trusting of products and retailers than they were five years ago (source: NFU Mutual), and they seek reassurances that the food that they eat is labelled correctly, and that it is not only transparently made, but also sustainable in its production methods'.
Looking further to the future, authenticity and transparency are set to become of even bigger importance to brands with the rise of Generation Z.
The Drum reports: 'Authenticity was, and still is, a trait valued by millennials, but for Gen Z it's not enough to have an authentic style, tone of voice and ideals; you must have an authentic reason to exist and be inclusive, diverse, kind and demonstrate passion with purpose. And you must of course do all this in a fluid, integrated way that doesn't feel 'tacked on' or tokenistic.'
With the emerging behaviours of both the brands and consumers, where does the responsibility lie? It's also worth acknowledging that this trend can work both ways, with new smaller brands creating a design which gives the appearance of a more established big brand. So is it dishonest for any company to create a brand which appears to be bigger or smaller and independent in it's outlook? Is it up to the brand and design agencies not to follow an established look and feel for different categories, or is it up to the consumer to research further into the brands they put their trust in?